Soaking in a warm bath after a long day can be rejuvenating. Your bath time doesn't have to be boring; you can spend some leisure time in your bathtub doing what you love.
Here are some ideas:
1. Reading
If you are an avid reader, then there's nothing better than reading a self-help book or a thriller while soaking up in a warm bath. You can also take along magazines or newspapers.
2. Turn it into a Spa Retreat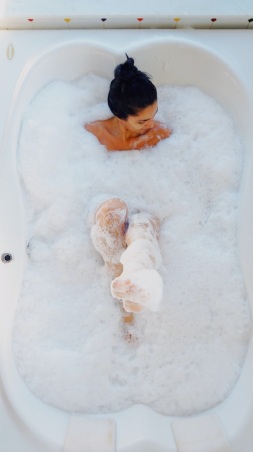 You don't need to spend money on costly spa treatments when you can get it done from the comfort of your own home. Grab some luxurious bath and body products from a nearby store and turn your own bathtub into a spa retreat. Light up scented candles around the bathtub for a relaxing experience. Add bath bombs, essential oil, and rose petals for a soothing effect and extra fragrance. Turn on some calming music on your phone and enjoy!
3. Watch Your Favorite Show
Some people install a mini TV screen above the tub on the wall. Stream Netflix, pour some red wine, and enjoy your favorite shows while you soak in.
4. Tea Time with a Twist
Prepare a hot cup of Joe and take it along with you. Buy a quality bathtub tray and attach it to the bathtub (follow manufacturer's instructions). Rejoice with every sip while you soak in lukewarm water. Take this experience to a whole new level by sipping exotic teas such as chamomile or oolong tea.
5. A Refreshing Bath
Enhance your bathing experience by adding Epsom salt to the water. Epsom salt contains therapeutic properties that help calm the body and mind. You can find Epsom salts in a variety of fragrances such as vanilla and lavender.
A dirty bathtub doesn't offer a pleasing bathing experience. If you notice that your bathtub has started to look dingy, rusted, or stained, then it's time for you to call for professional bathtub reglazing services in Manhattan, NY. Our skillful group of experts at Reglazing Plus, Inc provides the best bathroom reglazing, remodeling, and renovation services. Give us a call today to avail our special offers. What are you waiting for?