Nothing brightens up a dull bathroom like a fresh splash of paint, some plants, fresh air, and a few fancy fixtures. Contrary to popular belief, you don't need to break a bank to make your bathroom look more aesthetically pleasing.
Here are a few budget-friendly ideas to make it easier for you:
High Tech Lighting
LED lights not only beef up your energy efficiency but also add a distinctively beautiful design element. You can program the LED lights, so they change colors and are safe to be used near water. If you have a knack for creativity, you can also try your luck with some DIY projects and use innovative ways to install the LEDs.
You can also use LED lights to add a bit of color to the water in the sink or add some color wash effect to the walls. To make your bathroom glow up, you can even light up the counters, shelves, and wall mirrors.
Here's another benefit of sprucing up your bathroom with LED lights; according to the US Department of Energy, LED lights 25 times longer than incandescent lights and use 75% less energy!
Floating Vanity
Wall-to-wall cabinets take up a lot of unnecessary space and make the bathroom appear constricted. If you wish to enjoy your bath in a spacious and comfortable room, it's time to ditch the cabinets and open up the space a bit. Replace them with a bathroom counter that appears to float or a sofa table that has open shelves. A table like that should have a minimum depth of 16" to be able to fit into the sink.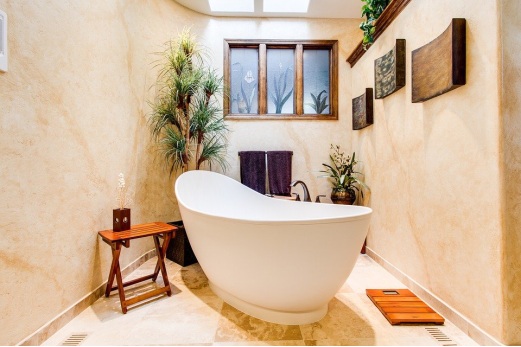 Give Your Walls, Tiles, and Bathtub A Renewed Look!
If you don't want to break a bank to invest in new fixtures, you don't have to. We have a better proposition. Get the bathtub and tiles refinished to cover any signs of rust, crack, stains, scratches, and chips. Tired of looking at the same four walls and the old bathtub? The reglazing process not only involves repairing the damage but it also involves changing the colors and giving your fixtures a spotless new look! You can choose from several spec-tone colors to mimic the look of sandstone or granite. The good news is that the process has almost no downtime and doesn't take more than 24 hours!
To learn more about the bathtub and tile refinishing process, get in touch with Reglazing Plus, Inc. We take pride in using extremely durable products that neither peel nor fade. All our services are accompanied by a five-year warranty.
If you're looking for bathroom reglazing solutions in Manhattan, NY, you've come to the right place!