Having a small bathroom isn't something to feel disheartened by. Bathroom fixtures and fittings have come a long way and no longer require to be bulky, so you can get the bathroom of your dreams even in a limited space.
Just imagine how incredible it would feel to have your own spa-inspired area! If you've always wanted a spa-style tub to relax in, here's a guide just for you! Just think along the following lines:
Who will be using the tub?
Before you take the plunge on the kind of bathtub you want to get for your home, there are a few things to consider; mainly,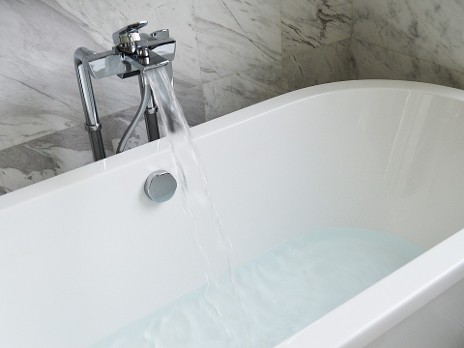 'who will be using this bathtub?' Will this bathtub be used by children? Will you be the only one using it? Or you require one that's big enough for two?
If you have kids, then it's wise to invest in a shallow bathtub instead of a deep one. You might also want to consider the finish of the bathtub to prevent the kids from slipping and hurting themselves. If the bathtub is just for yourself to use, you can invest in a small one and even a deeper one if that's what you prefer. If you're looking for a tub for two, make sure you're getting one that's big enough for the two of you to comfortably fit in, though, this may take up more room in your bathroom.
Is accessibility an issue?
Getting in and out of a bathtub can be an issue for those who are suffering from an injury or have problems with accessibility. Having your bathtub cut can make it easy to get in and out of.  TubcuT transforms a bathtub into a walk-in tub for those who require it. If you'd like to get a TubcuT, feel free to reach out to us!
Don't choose a tub too narrow!
When choosing bathtubs for a small bathroom, you're surely going to want to get the slimmest tub you can find to optimize on the space. However, a tub less than 32 inches wide is going to be uncomfortable to soak in, taking away from the relaxing spa vibe you were going for.
It's all about the layout
We believe that any bathroom can have a bathtub fitted if the layout of right. Make the most of the space you have by choosing the right corner for your bathtub. There are also a number of shapes to choose from when it comes to bathtubs.
It's all about the color
Don't worry if your desired bathtub isn't in the relaxing, 'Zen' color you want. Bathtubs can easily be refinished to achieve the color you desire.
Get in touch with us at Reglazing Plus Inc. to have bathtub refinishing done per your style in Brooklyn, NY. We also offer bathroom remodeling services like TubcuT to convert your tub into a walk-in shower. Call 66-399-8827 for more information.