Individuals with mobility problems usually have a hard time getting in and out of conventional step-in tubs. The good news is that even if a standard tub is not suitable, you can still take a warm, relaxing bath.
How? By getting walk-in and tub cut tubs installed. Both these kinds of tubs increase accessibility, but they are vastly different when it comes to the cost and features. Here is everything you need to know about tub cut vs. walk-in tubs:
Tub Cut Brooklyn NY
A tub cut tub is an economical option if you are looking to convert a traditional bathtub into a step-in bath or shower.
Some part of the sidewall of the tub is broken down, and a watertight cap is inserted on top of the cut-out. This lowers the height of the sidewall so that it is 6 inches tall, allowing individuals to get in and out of the tub easily. Since the height of the tub will be less, you will not have to lift your foot as much.
If you like baths more than showers, we recommend getting a tub cut with a convertible door or watertight door. This will ensure that there are no leaks once you have filled the tub sufficiently.
Keep in mind that tub cuts are quick and affordable options- the starting price is approximately $1,495 if you get a convertible door model installed in your bathroom. The best part is that you can expect this to be completed within one day, and you can choose between a cast-iron, steel, or fiberglass bathtub.
Here are some things to keep in mind about tub cuts:
Even though you can transfer an individual from a wheelchair into the tub, it is not ideal
An individual will have to figure out how to lower themselves into the tub, so you will need to get grab bars installed
You will need to be inside the tub when filling the water in it to ensure that water does not leak out.
A tub cut is not suitable with lined bathtubs.
Walk in Tub Brooklyn NY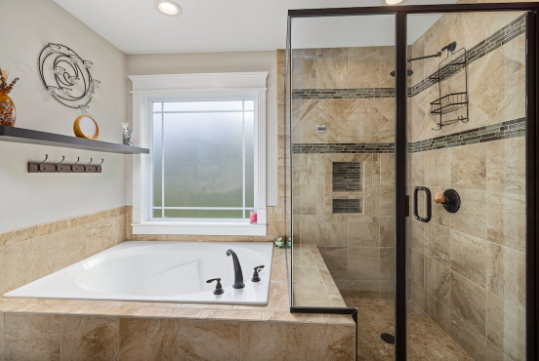 Walk-in tubs are those that you commonly see in television commercials. These heavy-duty tubs are perfect if you are looking for a combination of a bathtub and shower.
Walk-in tubs come with a watertight door that can be swung outwards. The design contains a seat, making it perfect for individuals who have trouble lifting their feet enough to make their way into a conventional tub.
Walk-in tubs can come with innovative features like whirlpool jet options, adjustable shower heads, and handrails. Because of how sturdy and low they are, these tubs are a better option for individuals who have trouble lowering themselves into a tub.
Moreover, if you opt for jetted tubs, they can benefit individuals with circulation problems, arthritis, and other kinds of pains and aches. However, keep in mind that you require a permit for these tubs. Furthermore, they can be expensive.
Tub Cut vs. Walk-In Tubs: Which One Is Suitable for You?
If you have a low budget, we recommend sticking to tub cuts. They are great for individuals that do not have as many mobility issues.
However, tub cuts have more therapeutic options for those who can afford them. Get in touch with us to know more.