Your bathroom is probably the most used space in the house. Unfortunately, it may also be a space that has not been renovated in years, because of which it has outdated décor and style.
Of course, renovating a bathroom can be pricy and inconvenient.
However, there are some bathroom renovation ideas you can use to give your bathroom a makeover. If you have a dull bathroom, you can use these ways to brighten the space up:
1. Change Up the Walls
One of the easiest bathroom renovation ideas includes painting the tiles or walls of the bathroom into a completely different color. You will find tiles and wallpapers available in different styles and colors, so this should be easier than you can imagine.
However, when switching to a new wallpaper, ensure that it can resist moisture. If your wallpaper soaks in steam and water, it will show signs of damage quickly, causing you to renovate your bathroom again. With wallpapers, you do not have to worry about mold because it will be hidden.
2. Create Extra Space for Storage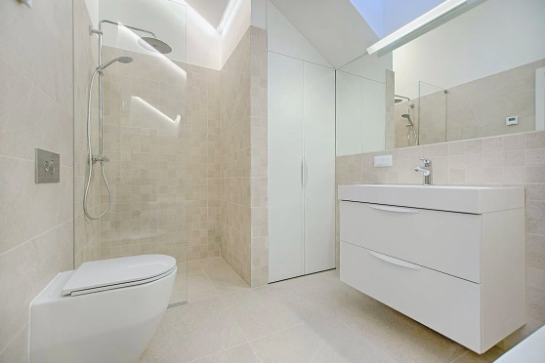 Does your bathroom always feel cluttered and congested? When renovating your bathroom, the best thing you can do for yourself creates more storage.
Not only does additional storage give you more space for necessities, but it also makes your space look more modern.
If there is no space in your bathroom for cupboards, here are some things you can do:
Add floating shelves to store toiletries
Install tiny cabinets on the wall for things you do not need on a regular basis
Make space for a hanging shelf behind the bathroom door
Get a cupboard built underneath the sink for extra storage
Use shelves and cupboards in tiny corner spaces
3. Get New Fixtures
Since you are already involved in bathroom refinishing NY, you might as well upgrade the shower head, taps, and toilet.
If you have not renovated your bathroom in several years, this is a good time to get water-saving equipment and modern features installed in the bathroom. However, do not attempt to DIY anything- it is important that you hire a professional to take care of all your bathroom renovation.
We recommend choosing fixtures that will lower your energy bill.
Conclusion
Think of your bathroom as an area that you can relax in after a long, stressful day. You should build it in a way that calms you down and reflects your personality. Ideally, you want your bathroom to have sufficient storage space to avoid clutter and modern features that you will not have to change for another decade.
If you are looking for more bathroom renovation ideas, get in touch with Reglazing Plus today, and our creative heads will help you construct a space that makes you happy!