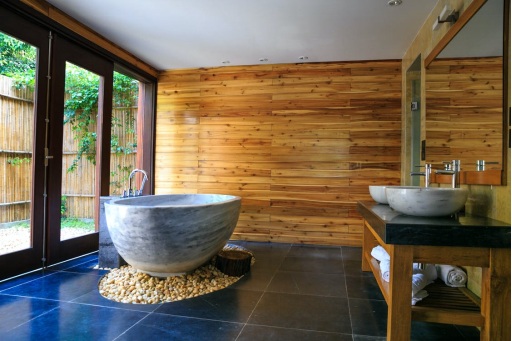 Your bathroom is supposed to be your comfortable retreat where you can enjoy long, relaxing baths. However, keeping it in top shape ensures your experience stays luxurious. Unfortunately, bathrooms don't remain the same all the time. After years of use, you can expect chipped bathtubs, cracked tiles, and whatnot.
While you might think bathroom remodeling in Brooklyn, NY, with complete replacement of old integrations, is the solution, there's an even better solution. Professional tile and bathtub reglazing, Brooklyn!
Bathroom reglazing refinishes your old installations, fixing up all the chipped and cracked areas and allowing you to change the colors. The top bathroom reglazing services include tile and bathtub refinishing. That being said, let's look at why bathroom reglazing is worth it.
1. It Costs Significantly Less
Opting for a bathroom renovation Brooklyn project can cost you thousands of dollars with the materials, labor, demolition, etc. Plus, you might be spending extra money on things that don't really need to be replaced. However, by choosing bathroom reglazing, you can make your old bathtub and tiles look as good as new in any color you want without having to spend a fortune.
2. Extends the Life of Your Tiles and Tubs
Besides being cheaper, you can expect the top bathroom reglazing services to extend the life of your bathtubs and tiles. Depending on their existing condition, you can expect your refinished bathroom to easily last for 10 to 15 years, maybe even longer.
3. Your Project Is Completed Faster
Complete bathroom remodeling projects can take weeks to complete. However, with reglazing, you can expect the job to be done and over within a short time. Some bathroom reglazing projects can even be completed within 24 hours. That means your regular routine won't be disturbed, and you can enjoy a refreshed space after only a day.
4. It's Safer for the Environment
When you replace old tiles and tubs, all the waste material is dumped into landfills. However, with reglazing, you don't need to worry about dealing with unnecessary wastage. Instead, your existing fixtures are repaired and refinished to make them look good as new. Consequently, it reduces carbon footprint, ultimately making it safer for the environment.
Reach Out to Reglazing Plus to Start Your Project Today
Start your tile and bathtub reglazing Brooklyn project today with Reglazing Plus. Whether you need to refinish the tiles or the bathtub, we offer the top bathroom reglazing services in Brooklyn and the Greater New York City Metropolitan Area. Check out our special offers here, or simply contact us by calling (866) 399 – 8827 for more details. Ours is the best bathroom remodeling in Brooklyn, NY.