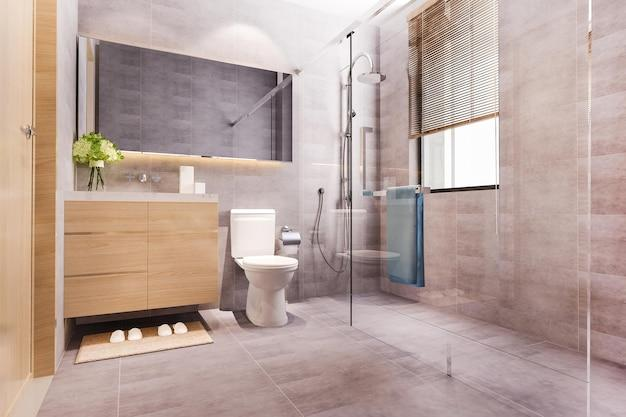 Falls are a daily concern for older people and those with mobility limitations – most of whom fear falling into the bathroom. With a few modifications, restrooms can be safe for those with any sort of mobility. The right accessible bathroom design can make your bathroom safe and convenient. From Tub cuts and walk-in tubs to professional bathtub refinishing and bathroom remodeling, there are many ways to create a bathroom that is accessible and beautiful.
Here are a few ways to make your bathroom safer and more convenient for everyone:
Walk-in Tubs
Walk-in tubs are popular option for accessible bathroom design. These tubs have a door that opens and closes, making it easy for people with mobility issues to get in and out of the tub safely. Walk-in tubs also have features like built-in seats, grab bars, and non-slip surfaces to reduce the risk of slips and falls. Walk-in tubs are available in Brooklyn, NY, and other areas.
Grab Bar Installation
Grab bars are one of the most important elements in an accessible bathroom. They're necessary for people who need assistance getting in and out of the shower or tub and those with balance issues. Grab bars should be installed at least 36 inches above the floor and within easy reach of the faucet. If you have a walk-in shower, grab bars should be on both sides. If you have a bathtub, grab bars should be on at least two sides. The ADA recommends that grab bars be installed so they're between 12 and 20 inches from the wall or other support structure they're connected to — this gives you a wider range of movement when using them.
If you need help installing your grab bars, contact your local home improvement store or contractor for advice on how to do it safely.
Accessible Bathroom Fixtures & Accessories
Bathroom faucets, toilet seats, and sinks are the most common items people with disabilities have trouble using. These items can be easily used with the right fixtures or accessories.
● Accessible Bathroom Sinks
An accessible bathroom sink allows a wheelchair user easy access to the sink and provides room for turning around in front of it. The best way to make an existing bathroom sink more accessible is by installing an adjustable height sink or replacing it with a new one that is already at a height that works for you.
● Accessible Toilet Seats
A toilet seat lift provides easy access to any toilet with the push of a button. It's simply a small electric motor attached to the back side of the seat that raises it when needed. This device can be used by anyone who has trouble sitting alone because of limited mobility or pain issues.
● Tub Cut
Tub cut is a process that involves cutting a section out of the side of a bathtub to create a lower entry point. This makes it easier for people with mobility issues to get in and out of the tub safely. Tub cut is a popular option for people who want to retain their bathtub but need to make it more accessible.
● Shower Chair/Bench.
If you have trouble standing up, showering, or sitting in a tub, consider installing a shower chair or bench in your bathroom. These chairs fit over the edge of your tub and provide support when you sit down and stand up from the water. You may also consider adding grab bars in the shower area for safety.
Bathroom Lighting
The best way to ensure everyone feels comfortable in your bathroom is by installing plenty of light bulbs. You should also install motion sensor lights that only turn on when someone enters the room. These lights will help people who have trouble seeing in darker places and provide safety for everyone else.
Grip Bars And Rails
Another way to ensure visitors feel safe in your bathroom is by installing railings along all walls without a shower or tub enclosure. Even if you don't have any elderly guests coming over, it never hurts to have these rails there just in case someone does need them someday!
Wide & Flat Entryways
To ensure ease of access, it is crucial to have wide and flat doorways when designing an area. This will enable individuals to enter and exit the bathroom without any obstruction from the sides of the door or a high threshold. According to the ADA guidelines, an accessible bathroom should have a minimum door width of 42 inches and a threshold that does not exceed ½ inch in height.
Make Your Bathroom Design Accessible with ReGlazing Plus
ReGlazing Plus offers a variety of services to make your bathroom more accessible. Tub Cut is a cost-effective alternative to replacing your bathtub, as it modifies your existing bathtub to create a walk-through insert for easy and safe entry and exit. Walk-in tubs are another option, featuring built-in seating and grab bars for added safety and comfort. They also offer professional bathtub refinishing services to make your bathtub look new again.
In addition to accessibility solutions, ReGlazing Plus provides bathroom remodeling services. Their designers and contractors work with you to create custom designs that meet your needs and budget. It is one of the leading bathroom refinishing companies in New York, with years of experience and a reputation for excellence.
Making your bathroom design more accessible is an important step towards improving the quality of life for everyone in your home. They are committed to providing high-quality services to meet your needs. Contact them today to learn more about their accessibility solutions, bathtub refinishing, and bathroom remodeling services.