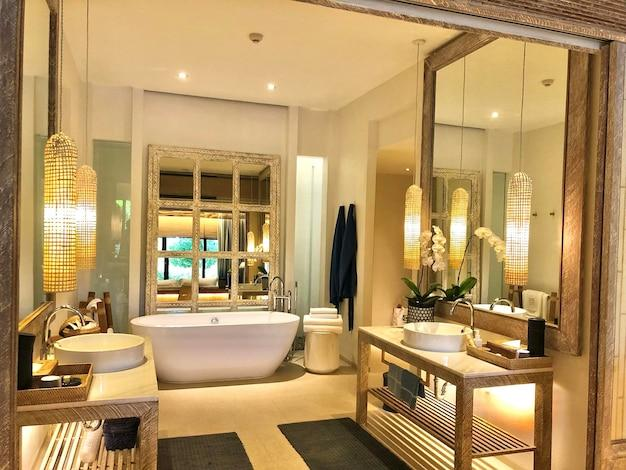 After a long day at work, there's nothing quite like soaking in a luxurious bathtub to unwind and relax. But creating a tranquil and spa-like atmosphere can be difficult if your bathroom is outdated or needs an upgrade. That's where luxury bathroom upgrades come in. From tub cuts and walk-in tubs to professional bathtub refinishing and bathroom remodeling, many options are available to create the perfect soaking experience. In this blog, we'll explore some of the best luxury bathroom upgrades for a tranquil soaking experience. Whether you're looking for a simple bathtub reglazing or a complete bathroom renovation, we've got you covered.
Some Luxury Bathroom Upgrades To Transform Your Space
Use Natural Materials:Use natural materials wherever you can in your bathroom. Dark woody tones used for cabinets in your bathroom space will give it a natural aesthetic. These wooden cabinets give off a luxurious experience and provide the perfect balance of a spa experience mixed with original undertones.
Create A Sense Of Grandeur:Some luxury bathroom updates that immediately give off an expensive look include getting a custom bathtub or a chandelier hanging over this. With a bathtub, you do have to go above and beyond to get that brand-new model. You can refinish your old one by using a well-recommended company. A refinished bathtub done by an expert makes it almost impossible to distinguish it from a new one. That way, you can get a luxury look but within the confines of your budget. You can even spend the money you saved on other bathroom items, making it a win-win situation.
Rain Showerheads For Small Spaces:Luxury bathroom upgrades are not limited to a huge space to produce a tranquil effect. Homeowners with small enclosed spaces as their bathrooms can go with rain showerheads to produce that luxury effect. Rain showerheads work extremely well with small bathroom spaces and come in a wide variety, so you can choose which product variant suits your spa-like bathroom oasis well. The wide range lets the homeowners explore multiple options in selecting the showerhead that works perfectly with the bathroom theme in a symmetrical harmonious manner.
Completely Change The Look Of Your Bathroom Space Now
Your bathroom space is more than just a functional space. It has aesthetic value, and with the right theme and luxury bathroom upgrades, you can relax after a stressful day.  At Reglazing Plus, we realize the significance of well-themed bathroom space. We can transform your bathroom space into a spa using modern luxury upgrades. We are Recognized as one of the best companies doing bathroom remodeling in Brooklyn, NY, and we offer many services. To avail of these services, do contact us now.