Bathroom trends change every year. Whether you're a trend-conscious person and want everything in your home up-to-date, or you're selling your home and need to remodel it to earn a good profit out of it, you need to learn about the latest bathroom trends.
Let's look at some bathroom trends that are expected to dominate in 2022;
Natural Elements
According to a recent report, the popularity of organic elements will continue to increase in 2022. People are expected to prefer countertops made out of natural stones and sustainable cabinetry and flooring will popularize.
What's more is that people will prefer rounded faucets, sinks, mirrors, and tubs which mimic the curved silhouettes found in nature.
Storage Solutions
People don't like keeping their bathroom supplies on the display 24/7. In order to reduce visual clutter in the bathrooms' people are making more requests for bathroom interiors that offer maximum storage. Storage towers, cabinets, open shelves, and linen closets will popularize in 2022.
Biophilia
According to the Pinterest Predicts list, biophilic designs will dominate in 2022. Biophilia is primarily a design concept that revolves around the human connection to nature. According to Houzz's report, about one-third of the homeowners who remodel their bathrooms, add plants and greenery for improving their aesthetics and to create a calming atmosphere. Greenery also helps in purifying the air, fighting odors, and has anti-bacterial properties.
Hi-Tech Shower Heads
Rainfall showerheads are becoming highly popular these days. Today, aromatherapy hand showers are also available which allow you to insert essential oil pods into the shower head to help you infuse your bathrooms with a scent of your choice while you scrub. Some brands also offer showerheads that come with a water-proof and Bluetooth-enabled speaker, for music lovers!
Looking for Bathroom Remodeling in Manhattan NY?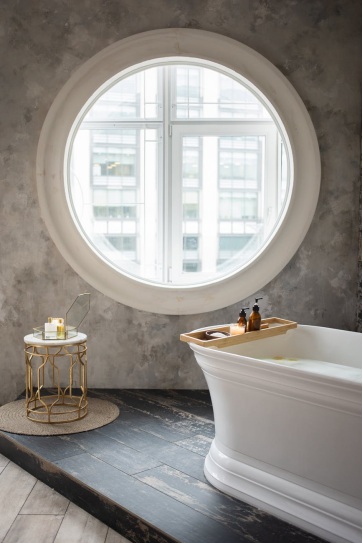 At Reglazing Plus, Inc, we provide the best-in-class walk-in tubs, bathtub reglazing Liners, bathroom renovation, and bathroom remodeling services in Manhattan NY at affordable prices. We're recognized as one of the best bathroom refinishing companies in New York because we give a high preference to our client's preferences and offer the services according to their budget and liking. Feel free to get in touch with us and share all your queries regarding bathroom trends and get premium professional bathtub refinishing services at cost-effective rates.
Contact us today!