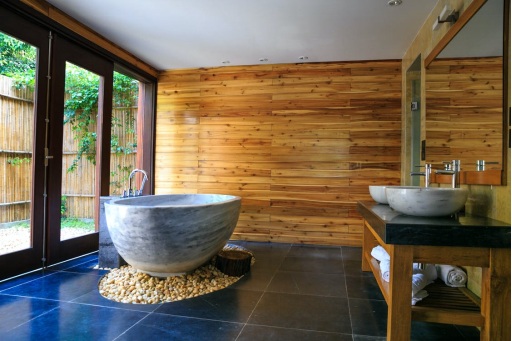 When thinking about selling their house, many homeowners tend to focus on bathroom remodeling as they can boost their home resale value. Remodeling the bathroom before selling can attract more buyers, as an immaculate and functional bathroom will communicate comfort, style, and value to your buyers. But what renovations will bring more return on investment? Completely remodeling the bathroom can be costly, so if you are setting up your house for sale, stick to these smaller projects that typically have a high ROI:
Walk-in Shower
If you have two bathtubs, replace one with a luxury walk-in shower. Although families with children usually prefer homes with bathtubs, a walk-in shower will be a seamless transition. The natural stone walls and a built-in lighting system will increase the resale value of your home. The frameless glass enclosing the shower area will give a spa-like feel to the users. Your choice of shower head depends upon the buyers you are trying to appeal to. If the family has aged members, multiple shower heads are your go-to option. Also, ensure to upgrade the area with safety bars and seating to prevent injuries from falling.
For the other bathtub, you can hire contractors for bathtub reglazing to give it a new look.
Vanity
For a greater ROI, the best type of vanity is the one that provides sufficient storage and counter space. They provide both functionality and aesthetics to your bathroom. The vanity consists of a mirror, countertops, and shelves. Replace the cabinets beneath the sink with deep storage drawers.
If the bathroom space allows it, install a full-sized vanity that complements your bathroom's overall design.
Plumbing Fixtures
Relocating or replacing the plumbing can impact your bathroom remodeling budget; it is also a rewarding investment. Fixing the water leakages or refreshing the plumbing can give your house a new look. Remember to add these minor but significant changes to your bathroom remodeling project.
Flooring
Carpeting and wood are the two materials you do not want to use for your bathroom floors. Go for mosaic tiles. If you have the budget to spare, you can tile the entire floor with mosaic to give it a refinished look. Bathroom remodeling tends to be pricey, so you can save money by limiting the mosaic tiles to the shower area. They provide grip to the users, preventing any falls. For the rest of the bathroom, mix and match with porcelain and subway tiles. These tiles will provide timeless beauty to your bathroom.
Countertops
Another great way to add to the resale value is to renovate sinks and countertops. Slab countertops are the go-to option if you want durability at a lower price. They are beautiful, waterproof, and easy to maintain. With porcelain, quartz, granite, and natural stone, your choices are endless.
Bathroom Ventilation
If your bathroom does not have a modern ventilation system, then consider installing it in this bathroom remodeling project. Moisture from fog and humidity can cause mold to grow on your floor tiles, which is a physical hazard and affects the air quality in the bathroom. Quiet exhaust fans will push the humidity outside the home, preventing any moisture buildup.
Refinishing
If you do not have the time or budget for full bathroom remodeling, you can spruce up the investment with these significant changes. Renew the paint on the walls with high-quality and mold-resistant paint. If you are DIYing, pay critical attention to detail. Small blobs of paint on the sink or countertops can be difficult to remove.
You can also make a tub cut out in your bathtub to make it more accessible for the elderly members of your family.
Fix everything that is broken, whether it is lighting or a faucet. Installing skylights and upgrading the hardware can greatly impact the resale value.
Reglazing Plus has been serving residential and commercial areas of New York City for a long time. Our licensed staff provides reglazing and refinishing services to all industrial sectors.
Contact us to get started on your project.