Though a bathroom renovation is an exciting project, it can also be a stressful challenge, especially if you share the bathroom with others. If you want to save up time and not risk making costly mistakes, get bathroom remodeling done by professionals.
However, if you're up for the challenge and don't want to worry about making mistakes, you can plan a few things to make your task easier.
Before you jump to the fun parts, you must first think about less exciting things so your renovation doesn't become too overwhelming, costly, and time-consuming.
Here's our checklist to help guide you through the pre-renovation process:
Know Your Budget
Before you begin purchasing materials and décor items, you need to work out how much you want to spend on your bathroom renovation. Remember, remodeling can get expensive (though bathroom remodeling has a significantly higher ROI).
So, set a budget and subtract the amount you'll have to pay for contractors. Once that is done, you'll have a clearer idea of how much you can afford to spend on flooring, fixtures, cabinets, and extras.
Plan the Timeline
Many homeowners assume that bathroom remodeling will only take a few days. But that's not true! Many things can cause unexpected delays, so always set a flexible timeline for the project. There are many intermediate steps along the way. If you want to streamline the process, make sure anything you have to order is already there by the time the remodeling starts, e.g., the tiles or custom-built vanity.
This will also give other people in your home an idea of where to take their showers and use the toilet when their bathroom is under renovation.
Have a Work Sequence
Doing things in an organized manner always streamlines the process. It will also save you from making many mistakes! As a rule of thumb, always start from the top of the room. This means, focusing on the ceiling, then walls, floors, and whatever else is left.
Find all the Hidden Issues
If you're planning a big bathroom upgrade, then gut the room completely. Having a professional by your side will ensure any problems are seen and resolved. This will let you have a bathroom that's fully functional without any issues. Look for structural problems in flooring, plumbing, tiles, showers, and tubs.
Consider the Design and Functionality
Don't think and renovate. What you want your bathroom to look like should already be decided. Consider the paint color you want to go with, the flooring options, the backsplash, vanities, tubs, showers, faucets, cabinets, etc.
There are many things to consider, so start with research and determine what you want each element of the bathroom to look like—for instance, you may want to convert your tub into a walk-in tub for more independence. Think about it earlier on!
Consider the focal point in the bathroom (which could be a large, modern vanity) and work to design the room around it.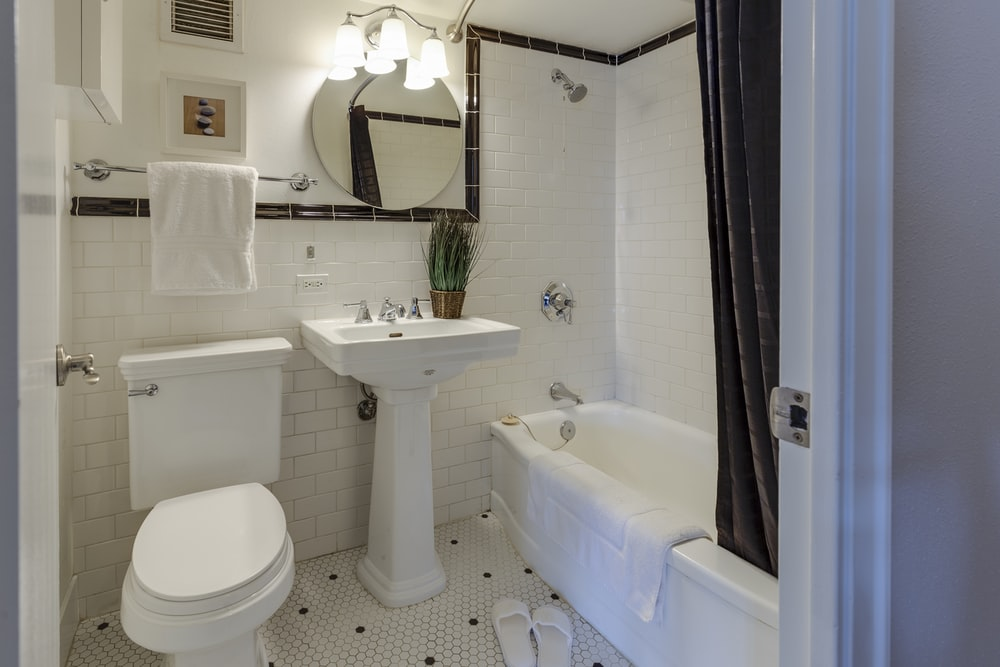 Take Measurements
There are three major measurements you need to take: the size of the bathroom, the location of electrical wires and plumbing pipes, and the dimensions of the fixtures. This will ensure you purchase stuff that's right for your bathroom.
Remodel Fixtures and Features
Your remodeling project will not be complete if you' still using your old fixtures and features. This doesn't mean you have to go purchase new stuff. You can hire a bathroom reglazing contractor instead to help you out.
Reglazing Plus, Inc. is a bathroom refinishing company that gives old bathroom cabinets, tubs, tiles, sinks, countertops, and floors a fresh, new look. They fix any cracks, chips, stains, rust, or scratches your bathroom fixtures might have.
When you're busy getting your bathroom refinished, don't forget to update your mirrors and shower doors. Install new door handles, hardware, and doors, if you can.
Plan Storage Solutions
You also need to plan on storing and shelving solutions. Make sure what you install is functional, stylish, and can easily accommodate your bathroom stuff while also providing an ease-of-access.
Think About the Walls and Flooring
There are tons of flooring options out there. Depending on your budget, you can choose marble, ceramic, engineered wood, vinyl, and so many other durable flooring choices. Whatever you go with, ensure it is durable and slip-resistant.
Lighting
Lighting is an important aspect of all interior rooms. If you have bad, sharp lighting fixtures, they'll end up creating a cold, sterile atmosphere in your bathroom. Instead, choose soft light sources and make use of natural light. This will give your bathroom a cozier, more spa-like feel.
Add Accessories
Though not necessary, accessories can add a bit of oomph to your bathroom. Small stuff like choosing a stylish soap set, putting a few candles or vases, a towel rack with clean towels, bath mats, and fancy mirrors can improve the look of your bathroom significantly.
Go Green
Being eco-friendly is always better. Add a budgeted eco-friendly touch to your bathroom by installing a low-flow toilet, using recycled or repurposed vanities, recycled tile countertops, organic cotton towels, and bamboo toothbrushes.
Have a Backup Plan
Sometimes, things don't go as expected. So, have a backup plan in case your first bathroom remodeling ideas don't work. This is why you should have a flexible budget — it'll keep you prepared for any issues that may arise!
Give it a Final Clean
After everything is done and dusted, give your cabinetry, walls, light fixtures, windows, tubs, and flooring a thorough cleaning.
Get Bathroom Remodeling in Brooklyn, NY
Are you prepared for a bathroom remodel? Hire experts at Reglazing Plus, Inc. to transform your bathroom into a sophisticated space. The professional bathroom refinishing, remodeling and renovation company specializes in bathtub refinishing and tile, sinks, countertops, cabinets, and floor reglazing. Their service areas include Brooklyn, New York, and the Greater New York City area.