There is no denying that the bathroom is one of the most expensive rooms to renovate in the house. However, you do not need to completely gut your bathroom to make it look luxurious. Bathroom refinishing Brooklyn is a common method used to upgrade an existing bathroom so that it has a designer touch.
Here are some bathroom remodeling and refurnishing tips that anyone can use without being locked out of their bathroom for days:
1. Get a Seating Area
Have you noticed how every designer bathroom comes with an area to perch? This could be a carved armchair, fluffy ottoman, or basic garden stool.
If you are looking to add dimension and depth to your hard tile bathroom, soft upholstery and raw wood, furniture items are perfect. Not only do they balance out the bathroom, but they can also make the accent look grand.
Why should you scroll on your phone post-shower or do your pedicure on your pot when you can do it on a sofa?
2. Conceal Your Personal Items
It is completely normal for bathrooms to have multiple jars filled to the brim with cotton balls or soap bars thrown haphazardly onto the sink.
While this is a conventional look common in many bathrooms, bathroom refinishing companies NY recommend keeping toiletries concealed and out of sight. Not only does this elevate mood, but it also opens up your bathroom and makes individuals realize how much space they really have.
Get a hanging cabinet installed on top of your sink or in-build drawers in your shower area so that you can place your shampoo bottles and soap bars in their designated corners.
3. Ditch the Traditional Mirror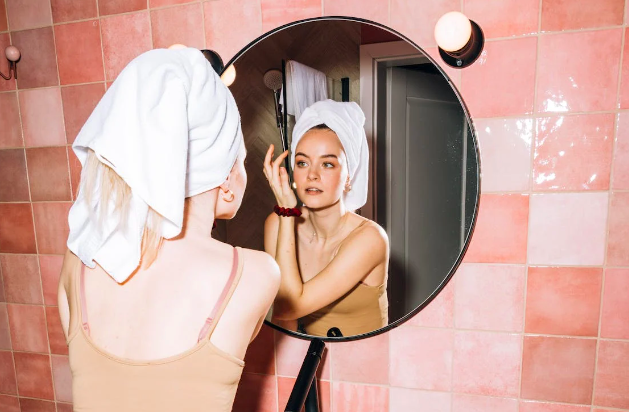 Many individuals find themselves settling for conventional contractor-grade mirrors that they find at the neighborhood hardware shop. The key to a luxurious bathroom is finding a mirror that showcases your personality.
We recommend finding one with smart storage instead of getting a medicine cabinet installed in your bathroom. This will help transform your bathroom completely. You can be as creative as you want- unique shapes, vintage detailing, antique mirror corners- go as crazy as you want.
4. Install Hooks and Rings
Experts in bathroom remodeling NY will tell you that there is a place for everything. Placement is extremely important for great designers as they know that if you do not have space to hang your robes and towel, a beautiful bathroom can look trashy within minutes.
Instead of tossing your linens and towels on the floor, get a ring installed close to the sink for your hand towel. You can also get a hook installed behind the bathroom door for your bathrobe. Don't forget to have rods around your bathroom on which you can hang your wet towels.
Even though these additions sound simple and may not make any exceptional virtual difference, they leave a huge impact.
5. Add Some Brass
The most luxurious bathrooms today have a bit of copper and brass added to the unique spots. If you want to amp up your bathroom, look without making it look average, ditch the basic chrome finishes.
Of course, this does not mean that you should change all the faucets in your place- you may not think it, but hardware can add up pretty fast. Instead, start by buying a magnifying mirror, soap dish, or a small jar. Little things like these can make your bathroom look luxe instantly.
6. Don't Forget the Walls
Finding the correct wallpaper for your bathroom might be a time-consuming and overwhelming process, but it is worth it. If you want your space to have some instant pizzazz, spending a few hundred to dress up the walls can be the most transformative thing for your bathroom.
While you can choose to only put wallpaper on the ceiling or accent wall, we recommend going all out to find different kinds of wallpapers that complement each other and ask your designer for ways to put them on the wall so that everything comes together.
7. Spend on Lighting
When remodeling a bathroom, it is common to forget about the overhead lighting. This is usually because most people move into a home and completely forget to upgrade the existing lighting.
However, there are some fabulous lighting options out there that can completely transform your bathroom. Get rid of your basic light fixtures and swap them for a chandelier on top of the tub or sink to make your bathroom look luxurious.
8. Add Touches of Marble
One of the easiest ways of leveling up your bathroom is by adding touches of marble here and there. Historically, marble is known for its sophistication and elegance, making it perfect for homeowners looking to create a luxe bathroom.
There are many ways you can incorporate marble into your home- from marble floors and marble containers to marble showers and vanities- you can never go wrong with marble.
You can always splurge on real marble, but if you have several bathrooms to renovate, you can cut your costs by choosing alternative tile options that are a little towards the simpler side. Regardless of what you choose, both options will do the job.
9. Say Goodbye to Your Existing Showerhead
Is there anything more relaxing than taking a long, hot shower at the end of a long, stressful day at work? However, nothing beats the vibe more than an old shower that does not work properly, is outdated, or feels ordinary. Your shower experience deserves to be top-class each time.
In recent years, rainfall showers have become more popular because of their sophisticated design and functionality. Rainfall showers have the ability to instantly upgrade any bathroom and make it look luxurious.
Conclusion
Are you ready to renovate your bathroom? Get in touch with bathroom refinishing companies NY and get a quote so that you can get started.
Reglazing Plus is the topmost company with a team of professionals that can take your bathroom to the next level within no time.