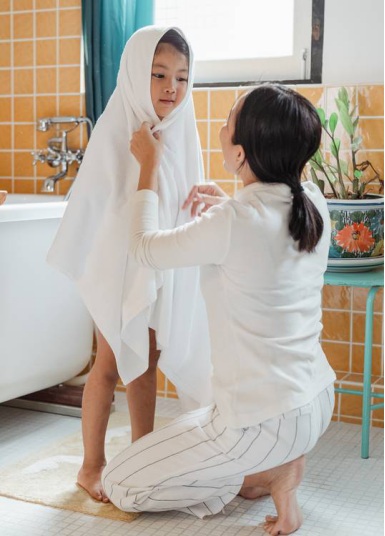 Many people assume that bath time safety is only applicable for people who struggle with limited mobility; however, in reality, it's critical for everyone from an infant to an adult.
According to the statistics revealed by NationwideChildren.org, more than 43,000 kids are rushed to the emergency ward every year due to shower and bathtub related injuries. It was further disclosed that the majority of these injuries were suffered by kids younger than five years. And since kids falling in this age bracket aren't physically strong, they tend to fall on their heads, which puts them at a higher risk of fatal injuries.
If you have seniors or children living in your home, here are three things you can do to make their bath time safer and enjoyable.
Place Rubber Bath Mats
Placing rubber non-slip bath mats is a non-invasive and cheaper option to enhance your bathroom's safety. These mats have several small suction cups underneath them that facilitate the rubber mat's stability and firm grip.
Rubber mats can be easily removed for cleaning purposes. Although these mats are notorious for damaging the finish of bathtubs because dirt can continue to accumulate inside the suction pups, it's only valid if you're not cleaning the surface under them regularly. Also, note that rubber bathmats aren't recommended to be used on refinished bathtubs. The constant air pressure from the suction cups can cause the finish to wear off prematurely.
Anti-Slip Stickers
These stickers are highly effective in adding grip to excessively slippery bathtubs. They're typically available in shapes of butterflies, sun, and flowers that make them attractive for kids but are also available in strips for simpler designs. But applying these grippy stickers may not be advisable for refinished or resurfaced tubs, especially if you're planning to leave them on for an extended period.
Tub Cuts
This is an invasive, but probably the most cost-effective option to make your bathroom accessible for seniors and children. It can be challenging for family members with limited mobility to raise their legs and step over the bathtub. It can also put them at a higher risk of slips and falls.
With a tub cut process, you can get your regular bathtub modified into a walk-in tub to provide your loved ones with more independence and safety. This process gets done within 6 hours, and you can use the bathtub in the next 24 hours.
If you're looking to boost the bath time safety for your beloved seniors or kids, get in touch with Reglazing Plus, Inc. We are one of the leading bathroom refinishing companies in NY that offers top-quality bathtub reglazing and bathroom remodeling to amp your bathrooms' appearance. We use the original TubcuT® method to convert your regular bathtub for better safety and protection. Furthermore, our tub-cut process will help you save 90 percent of the amount you may spend on a typical walk-in tub, and it's also reversible.
For more information about our exclusive discounts and offers, contact us online or call at (646) 791-7687.