Our bathrooms go through a lot. From shower steam to heavy-duty cleaning products containing chemicals and even water damage from daily use, bathrooms have to be made of tough materials to withstand all this. Additionally, they need to be easy to clean.
Therefore, you need to be very careful when selecting materials for your bathroom.
Here are some of the most durable materials to include in your personal oasis:
Good Quality Cabinets:
While big stores and online retailers have many different options for trendy bathroom cabinets, they may not be that durable in the long term.
Cheap particle board is not resistant to moisture and can swell up, while laminate can peel off. Wooden doors may also rot away to such an extent that door hinges come right off.
To avoid all this, source high-quality cabinets from known suppliers that are built to last. MDF cabinet boxes can resist warping, and furniture grade plywood can also be used in the bathroom.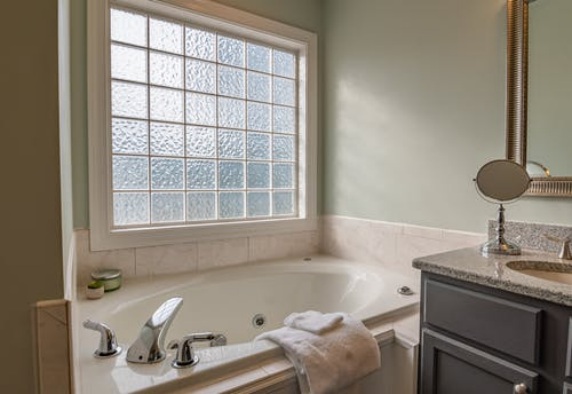 Quartz Counters:
Bathroom countertops that are made of cheap laminate over particleboard can quickly swell up from moisture.
Even worse, if you keep a hot curling wand on it, it will burn away. Instead, use solid quartz for your countertops.
It lasts under all kinds of abuse and can be customized in any color you like. Quartz is easy to maintain and can be cost-effective to use on a counter.
Glass Shower Dividers:
A tempered glass shower door will look a hundred times better than a vinyl shower curtain.
Not only is it easy to clean, but it can also transform how your bathroom looks. Use starphire glass for a clean look without the green tinge.
Cast Iron Tub:
While most homeowners choose to convert their tubs into showers now, bath lovers can still enjoy the perks of a tub. Cast iron tubs with a coat of porcelain enamel are the most long-lasting ones out there.
Not only can they hold heat well, but they also feel sturdy and are resistant to chipping from any fallen objects.
Glossy Paint:
Bathrooms have the prime environment for mold to bloom in. Humidity can be countered by having a bathroom exhaust fan, but the paint you choose can also help.
A glossy paint has a shiny surface that is sealed to block any moisture. It can be wiped clean to clear away any residue without leaving any stains behind.
For a less overbearing look, semi-glossy paint can also be used to have the same long-lasting effects without putting any wall imperfections out on display.
These materials help your bathroom not only to look fabulous but last forever with minimal repairs.
You can get professional bathtub refinishing in Manhattan, NY, from Reglazing Plus Inc. We have many cost-effective deals that allow you to transform your bathroom on a budget. Contact us here or call at 866-399-8827 for more information.