Sprucing up a bathroom space can uplift your mood. Have you found yourself making a list of luxurious options but not having the money for it? We've created a list of affordable options for you. Bathroom flooring can be made beautiful and safe with the flooring options listed below. Take a look.
1. Vinyl Flooring
Vinyl flooring is a popular option among households because they are waterproof. Hence, it is ideal for bathroom floors. They aren't even high maintenance; regular mopping is enough to keep them maintained for about 25 years. It's a cheaper option, and its durability makes it more appealing. They are so easy to install that you can do it yourself too, although it's not recommended.
2. Porcelain Flooring
Porcelain tiles are thick and non-porous, making them a suitable option for cold regions and bathroom floors. They don't let water seep through them, resulting in higher durability. You may find it hard to install them, but the final results will satisfy you because their beautiful styles will revamp your bathroom.
You can keep them clean without putting in much effort. The best part is that they come in various colors and styles to match your home and bathroom's aesthetics.
3. Stone Flooring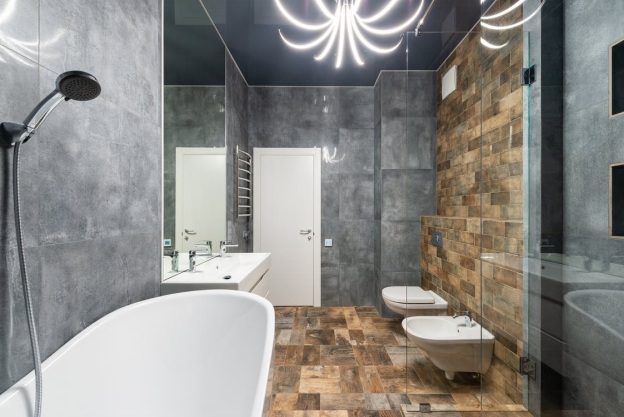 A stone floor is a bit more expensive than other options and may require higher maintenance. They are common among homeowners because of their luxurious look and elegance. There are various stones to choose from, so you can get one that is within your budget.
If you get stone flooring, your resale value will be increased, as buyers view it as a stylish option. However, you may have to walk on cold stones when it's freezing, so consider your region's weather throughout the year before installing them.
4. Concrete Flooring
Instead of using premium flooring options to get a fancy look, you can get an affordable concrete tile with the same property. Concrete floors are readily used for bathroom flooring because of their waterproof characteristic.
It would be best if you choose the finish carefully because some finishes can make you slip. Concrete floors need to be sealed periodically but require no other maintenance. If you select the cleaners carefully to avoid discoloration, these tiles will last the longest.
5. Linoleum Flooring
Linoleum floors are a good option for residential bathrooms, as they are water-resistant. They work best at places where the foot traffic is less. They have antimicrobial properties, which prevent the growth of bacteria. Select a brand that you trust to be sure that they are using natural materials and guarantee durability.
We help in remodeling your bathroom by changing tiles and tubs. We offer professional help at affordable prices because we understand that you're looking for the best deals. We also provide professional services for your bathtub refinishing and reglazing. Choose a tile type and contact us to get our advice and price quote for your bathroom renovation.